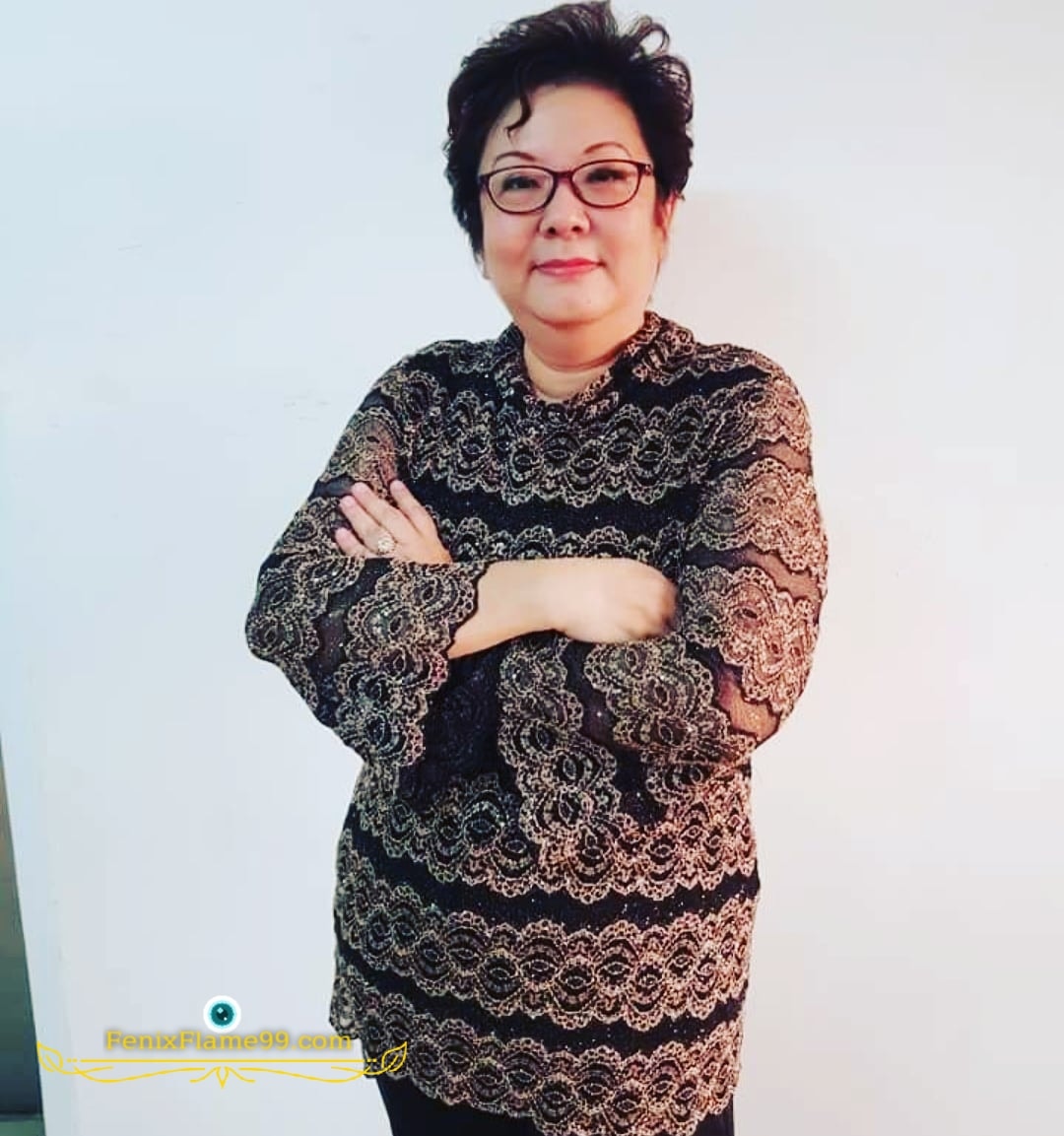 Patricia is my eldest sister in the family. She is the most celebrated beautiful lady in her younger days, even till today. Many men tried to win her heart but one person's determination and strong will power won her heart. He is none other than my brother-in-law, Alex. Imagine how he tried to woo my sister and won her heart those days when she only focused on her career. He will drive for about 2 hours from another district every evening after work just to see her. My brother, Alvin and I were their spotlights; patronaged their dates. Hahaha, love those days.
After a few years, they finally tied the knot and Ian was born a year later and today he has also followed his parents footsteps in the same respected profession. I will introduce my amazing sister who is beautiful, independent, hardworking, strict but humble and down to earth in the Women Empowerment Blog. How she achieved her success and her precious advices. She is a great cook, a wonderful wife and a great mother too. The way she juggled her career and family life is magnificent. God has blessed her with a wonderful family and a lovely daughter-in -law, Fatin whom she loves so much, though of a different race and religion.
The day when I reached and stepped my foot on Malaysia soil in 2018, I said to myself, "Finally I am back in Malaysia, Home Sweet Home." My sister was the first one to welcome me home with an open arm. She hugged me so tight that I could hardly breathed. For the next few months, we spent so much time together eating, shopping, sight-seeing, sleeping, giggling, laughing, etc, etc, like what sisters normally do. I can still remember that every night before we sleep, we will be reminiscing and telling stories about the good old days till wee hours and laughed out so loud till my brother-in-law came in and said, "Still don't want to sleep, ah? Tomorrow got to work leh". We giggled. I miss those moments. Hahaha…talk about it, I have to thank my amazing and precious brother-in-law who sacrificed his bed for me to share with my sister while I was staying in KL. I appreciate his kindness so much. He watched us grew together with my sister and we have always respect and see him as a big brother who has a special place in our heart. Thanks again, ko ko.
Soon, both my sister and brother-in-law will be grandparents as Fatin is expecting their first grandchild. A big congratulations to all of you. May all of you be showered with God's blessings abundantly!
What is Dim Sum?
Dim sum (Chinese : 点心; Traditional Chinese: 點心; diǎnxīn; Cantonese: dímsām) is a large range of small dishes that Cantonese people traditionally enjoy in restaurants for breakfast and lunch. The city Guangzhou experienced an increase in commercial travel in the tenth century and the travelers stopped at teahouses for frequent, small-portion meals with tea called yum cha, or "drink tea" meals. Yum cha includes two related concepts:
一盅兩件, which translates literally as "one cup, two pieces". This refers to the custom of serving teahouse customers two pieces of delicately made food items, savory or sweet, to complement their tea.
點心, which means dim sum and translates literally to "touch heart". This is the term used to designate the small food items that accompanied the drinking of tea.
Canning Dim Sum (Halal) : 1, Lebuh Cecil Rae, Taman Canning, Ipoh, Perak
One of the well-known places for Muslim-friendly dim sum is Canning Dim Sum Restaurant in Lebuh Cecil Rae. It is a street that is frequented by Muslims to taste Chinese delicacies. It is easy to spot as it is located at the corner of the main road and next to the Hollywood Restaurant (Halal Restaurant).
Highly recommendations : The menu has more than 48 items. If you went there every day for a week and ordered 9 items, you still have many choices. Introduce the 4 Season Blessings, the most colorful spread of har gows (prawn dumplings), smoked duck wraps, 5 flavors of Lava Paus (steamed bun with oozing fillings), "Chow Kueh"(radish cake fried with bean sprouts). The prices are reasonable.
For selfie lovers : Although it is crowded, you will not feel suffocated as the building is partly open air concept. You can enjoy the morning breeze from the outside. Oh yes, the owner is very creative that they use all the Bamboo dim sum steamer as their main theme for decorations. I love the rattan chair. It is fantastic to bring back the memories of my good old days. Definitely, is a thumbs up for the selfie lovers.
Our experiences : We love all of the Dim Sum. Delicious and cute, especially with the little carrot shapes, colorful steamed buns and transparent jelly with Gojiberry. Must try their hot Chinese tea served in a teapot. It is healthier to gulp hot Chinese tea, to wash away the fatty oils from the food. Finally, order the famous ice coffee, it is Ma Ma Mia!!… Omg it makes me feel so hungry and thirsty now. Remember to update me the latest item in their menu so that when I fly back to Malaysia, I want to try.
Dim Sum Yuen 点心苑 @ Taman Canning, Ipoh (Non-Halal) : No.48-50, Lengkok Canning, Ipoh Garden Ipoh, Perak,
Have you experience of sharing tables with others or customers gazing at you hoping you finish the Dim Sum soonest possible? Drive to Dim Sum Yuen 点心苑 at Taman Canning for Dim Sum and it is located behind the Shell petrol station. Dim Sum Yuen is more like Hong Kong Cha Chaan Teng 香港茶餐厅 opens until late evening.
Highly recommendations : The signature drink being HK Milk Tea 港式热奶茶 with ingredients fully imported from Hong Kong, HK Style Shrimp Rice Noodle Roll 香港鲜虾肠粉, Steamed Siew Mai 鲜虾烧卖 presented on sauce dishes. Cold Water Chestnut Cakes 鸟吞马蹄 (birds in cage) from the Modern Dim Sum menu, Steamed Mixed Sweet Buns (3s), Peppa Pig Custard Buns, Black and White Swan with yam.
For selfie lovers : The white marbles on the wall and the Bamboo steamer hanged on the other side of the wall, makes the whole atmosphere feels like in Hong Kong. The highlights of this place for the selfie lovers are the creative made Dim Sum buns. It is irresistible to have selfies with the Black and White Swan with yam plus the Cold Water Chestnut Cakes (birds in the cage). Do not miss out from their Modern Menu for other adorable Dim Sum.
Our experiences : We love the serenity and cleanliness of this place. The services were great and their prices are reasonable too. The first thing that draws our eyes were the set of the Chinese Tea Pot, it amazingly has transparent holes on it. Of course, do not worry that the tea will not be leaked as it has a layer of glass. It was so unique and we love it. I personally love the outstanding of the bamboo steamers which it is in square shape, different from the other Dim Sum places. Normally it is all in round shapes. We had a lot of laughter and fun when we were served with the adorable dim sum in the shape of a pumpkin and Cold Water Chestnut Cakes (bird in the cage). Now Dim Sum eaters, I am sure you guys will be drooling now!! Hop hop to Dim Sum Yuen for all the experiences.
What is edible Birds Nest?
The best-known use of edible birds nest is bird's nest soup, a delicacy in Chinese cuisine. When dissolved in water, the birds' nests have a favored gelatinous texture utilized in soup or dessert (tong sui). It is mostly referred to as 燕窩 (yànwō). Edible birds nest Researched shown that bird's nest is rich in epidermal growth factor (EGF) and it is responsible for skin and tissue repair. According to Eu Yan Sang, "From a biological perspective, Bird's Nest rich with proteins, amino acids and minerals that are essential for healthy development. In Traditional Chinese Medicine (TCM), regular consumption of Bird's Nest helps colds and flus prevention. Strenghtening the function of the Lungs and Kidneys, boosting the body's immune system and increase resistance to external environmental factors."
*Eu Yan Sang is a company that specialized in Traditional Chinese Medicine (TCM). It currently runs more than 230 retail outlets in Hong Kong, Macau, China, Malaysia, Singapore, and Australia, plus four factories in Hong Kong and Malaysia.
V-Nest Healthy And Wellness Café (Non Halal) : Jalan Bandar Timah, Ipoh, Perak
If you are looking for something different in eatery, try V-Nest Healthy & Wellness in Ipoh. It is a creative cafe combining the essence of bird nest into our daily meals. Their aim is to provide a healthy lifestyle to customers. The range of prices were affordable.
Highly recommendations : For Western cuisine lovers, try Iberico pork ribs, prawn spaghetti and pizza. For the Eastern cuisine lovers, try their gyoza and pineapple fried rice served inside the fruit itself. Don't forget to try their special desert – bird nest with mango and pomelo, papaya and passion fruit with bird's nest, China Pear Bird's Nest. For coffee lovers, try bird's nest coffee.
For selfie lovers : The interior which has an open air concept, with a pond filled with Koi fishes and a tree growing in the center. The water flowing from the brick wall. You can sense the balances of Zen, Yin and Yang. The tables and chairs or stools are all natural wood with bricks, creating an ambiance of peace and serenity. It is a perfect place to have selfies, the feeling Zen in the concrete world.
Our experiences : The moment when we walked in, my eyes were drawn to the trees that grow in the middle of the shop plus the water flowing from the brick wall. Feeling so soothing. My eyes were gazing at the Koi fishes swimming. A feeling so much relieves after hustle bustle from the world. Best thing was when we were served with the culinary, I was amazed that the desserts were carefully topped off with gold flakes. Feeling so much pampered. Luxury with food and life. Experience it yourself food lovers, you deserve it. Oh yes, they also have a membership club. Join and get some special discounts. Also there are also biscuits that made from Birds Nest. Let me know how does it taste.
What is Fusion food?
Fusion food is a general term for the combination of various forms of cookery and comes in several forms. Even though fusion food is often the invention by chefs, fusion cuisine can occur naturally within the different cuisines of a region or sub-region. These can include larger regions, such as Asian cuisine, European cuisine and American cuisine.
What is Gac fruit?
Gấc (botanical name: Momordica cochinchinensis) is a type of perennial melon grown throughout Southern Asian countries and Northeastern Australia. Gấc is notable for its orange-reddish color resulting from its rich content of beta-carotene and lycopene. As gấc was originally discovered in Vietnam. The fruit may also be called "trái gấc", "quả gấc" as "trái/quả". Gac has been commonly used in its native countries, mainly as food and traditional medicine.
The Happy 8 Cafe & Retreat : No 8, Jalan Koo Chong Kong, Ipoh, Perak
A place with culture beating with the steps of compassion and synchronizing with each other can be derived from food. Malaysia is a well known place for different cuisines and Happy 8 adapt this famous known into their menu. You will notice a Big number "8" stand at the main door and also there is a giant metal horse on their left. You will not miss this cafe.
Hotel (3 stars) : They also offer Guest House in PASIR PUTEH – Taman Happy, Ipoh (5 rooms with different themes, refurbished and refurnished with recycled nature materials of wood and bamboo) / OLD TOWN – Market Street, Ipoh (an old building with 12 themed rooms with a cafe at the ground floor) / KUALA SEPETANG – Kuala Sepetang, Perak (a fishing village with 33 themed rooms with its own stories located beside the the river and village), WHITE HOUSE (big single storey house) and KAMPUNG HOUSE (Malay culture, living in this high-rise wooden house) – Kampung Melayu, Ipoh,
Highly recommendations : Meals from Western, Japanese, Taiwanese and Malaysian heritage cuisine, the combination of Chinese, Malay and Indian cuisine. Our favorites are Red Velvet Forest Cake, Matcha Creme Brulee, Lotus Biscoff Mousse Cake and Durian Layer Cake.
For selfie lovers : This cafe has an enchanted feel to it. A magnificent mural has been painted across the internal walls of the cafe depicting a forest area. There is also a private dining area in the courtyard that hovers over a fish pond. Even the bathrooms are nicely decorated, with huge bamboo doors. Cozy Wood-crafted Cafe with very nice coffee especially their "Ni Hao" literally means "How are you?". Nested near concubine lane and can be recognized by its tall bamboo frontage. So selfie lovers, do not miss out for selfies.
Our experiences : We love the ambience of this place, the decorations were so amazing, It is a mixture of everything about Malaysian Heritage. You know, we played hide and seek with my sister, hahah… I was hiding in the washrooms where the door and wall were made from bamboo. So it is hidden. I also love the wooden horse too, and the little melted pot with fishes. It is so much to explore here. At the side of the cafe has the leaves hanging from the ceiling and little light bulbs. It reminds me the fire flies. Very magical feelings. Each corner of the cafe has its own story to enchanting you. I am sure you will love it too.
Thank you for enjoying my Food Blog. I have so much exciting time with my sister Patricia, my brother in law Alex and also their son Ian and his wife Fatin. I am truly blessed. Yes, readers, catch me again in the next travel blog. Hugs
Index links for references :
https://en.wikipedia.org/wiki/Dim_sum
https://www.tripadvisor.com/ShowUserReviews-g298298-d15005896-r661646163-Canning_Dim_Sum-Ipoh_Kinta_District_Perak.html
https://www.tripadvisor.com/Restaurant_Review-g298298-d13962377-Reviews-Dim_Sum_Yuen-Ipoh_Kinta_District_Perak.html
https://en.wikipedia.org/wiki/Edible_bird%27s_nest
https://www.ipohecho.com.my/v4/article/2018/07/01/v-nest-healthy-and-wellness-cafe-seefoon-goes-nesting-in-old-town
https://en.wikipedia.org/wiki/Fusion_cuisine
https://en.wikipedia.org/wiki/Gac
https://www.tripadvisor.com/Restaurant_Review-g298298-d7606790-Reviews-The_Happy_8_Cafe-Ipoh_Kinta_District_Perak.html
https://www.thehappy8.com.my/Happy8Home