The Sailormoon (Pei) is the most adorable sister in law. She is a very faithful wife to my youngest brother, Adrian. Both of them looks alike, I wonder whether they are twins. If they switch their hairs with each other, they still look alike. Twin Flames and soulmates? You tell me when you see both of them. *Wink wink. Her favorite jinggles,"Say some la, do some la". I miss her so much.
Although she is petite in size but she is a mother of two baby boys (Adam and Alan). She is very smart in making money. She is beautiful, respect the elderly, humble and talented in improvising everything that she had. She has her online shop : selling baby clothes, toys, stuff, earrings, make up and women's clothing. She always mothered me. She ensure that I had my meals every day, make sure that I am not suffering from constipation. My youngest brother is so lucky to marry her. Kudos Sailormoon! your parents definitely proud of having you as their beautiful daughter.
Psstt..why we named her as Sailormoon, it is because of her petite size. She loves the cute stuffy squishy fluffy dolls such as unicorns. She is outgoing and full of energy. She is the member in my club : Funny Expedition. That one we will share in our next Travel blog.
When I was in Ipoh in 2018, our favorite activities are eating and drinking. This time I would like to introduce something which suits the personality of Sailormoon. She has recommended us a few places for sweet tooth plus you can even make some pictures for Instagram or Facebook.
What is Bubble tea?
Bubble tea (also known as pearl milk tea, bubble milk tea, or boba) (Chinese: 珍珠奶茶; zhēn zhū nǎi chá, 波霸奶茶; bō bà nǎi chá; or 泡泡茶; pào pào chá) is a tea based drink invented in Taiwan in the 1980s that includes chewy tapioca balls ("boba" or "pearls") or a wide range of other toppings.
**Recently, Ipoh popular of bubble tea, there are more than 20 type of bubble tea shops mushrooming. (statistic based on August 2019)
Recommendations :
Hanaya Tea Roastery Café – Taman Desa Kencana Ipoh, Perak
Hanaya is the famous place that serves fresh tea such as fresh Grapefruit tea, Charcoal Oolong Chinese tea, fresh Pineapple tea and many more. The teas that they served are uniquely made and fresh. I love it.  Try Roasted Brown Sugar Boba Latte or Brown Sugar Boba Black Sesame Latte. Slurp!
For Korean food lovers : Hanaya has officially launched a series of most popular Korean-style meals: Korean-Style Fried Chicken, Kimchi Ramen and Korean-Style Fried Cake, Korean-Style Hambur. Try this too!
Other branches : Hanaya also have other branches in Greentown and Menglembu, Ipoh, Perak. Greentown branch offers and variety of activities such as clay modeling sessions or Art Jamming. Please visit their Facebook for more information as the offer may varies from time to time.
For selfies lovers : In Bercham branch the eye catching is the main entrance of the wall. It was decorated with flowers and the signature name "Hanaya". Perfect for the selfies lovers. Also do visit the upstairs, there are candy colors of little sofas with velvet of French style and romantic lamp post.
Our experiences : Sailormoon and my family members went crazy with so much of selfies. There is a bicycle with basket of flowers reminded me the "Love story" in the Chinese Novel and a fountain sitting in the middle of the lobby. We move our butts from one sofa to another with so poses for selfies. The little boy Adam join us for our crazy selfies. Mostly Kung-Fu pose, "Aiya BOY ma!" I am sure you and your family or friends will take as much as selfies like us too.
What is souffle?
A soufflé is a French, baked egg-based dish made with egg yolks and beaten egg whites. Combined with various other ingredients it can be served as a savory main dish or sweetened as a dessert. The word soufflé is the past participle of the French verb souffler which means "to blow", "to breathe", "to inflate" or "to puff".
Recommendations :
Fondantism – Bandar Cyber Ipoh, Perak, Malaysia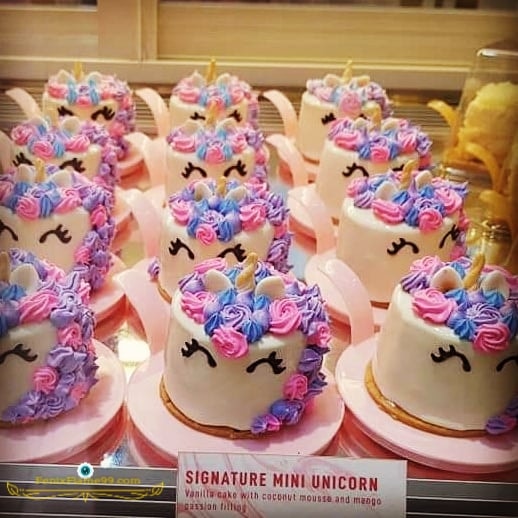 The signature dessert is souffle, Japanese Souffle and Fondant Cake. Wonderful taste and highly recommended *firedkissed caramel shuffler, *Japanese flavors ShizuokaMatcha souffle and many more.
Highly recommendation : They also offer custom made cakes, you can design your cake any way you like! Don't miss that opportunity. If you have any celebrations for Birthday, baby shower, wedding anniversary and any special occasions. Do order the cakes from them, you will not regret it. Do check out other offers and their branches from Fondatism Facebook. Have fun!
For selfie lovers : Believe me, if you are there especially in Taman Botani, Ipoh you will be the same like us. The ambiance was also tempting to take selfies. Pink colored balls in the bath tub with a shower head, blown up rubber unicorn and the pink colored balls inside the wall and the cute chairs and tables.
Our experiences : Our most favorite were the souffle and the unicorn cakes. We were goo-goo gaga over it. Perfect for the sweet girlish, like you and me. Ehem ehem. Take many selfies as you like as long you do not block others. Hahaha
What is meringue?
Meringue is a type of dessert or  candy, often associated with Italian, Swiss and French cuisine, traditionally made from whipped egg whites and sugar, and occasionally an acidic ingredient such as lemon, vinegar, or cream of tartar. A binding agent such as salt, flour, or gelatin may also be added to the eggs. The key to the formation of a good meringue is the formation of stiff peaks by denaturing the protein ovalbuim (a protein in the egg whites) via mechanical shear. Meringues are often flavored with vanilla, a small amount of apple or orange juice, although if extracts of these are used and are based on an oil infusion, an excess of fat from the oil may inhibit the egg whites from forming a foam.
Petit Mary Patisserie – Taman Teh Teng Seng Ipoh, Perak, Malaysia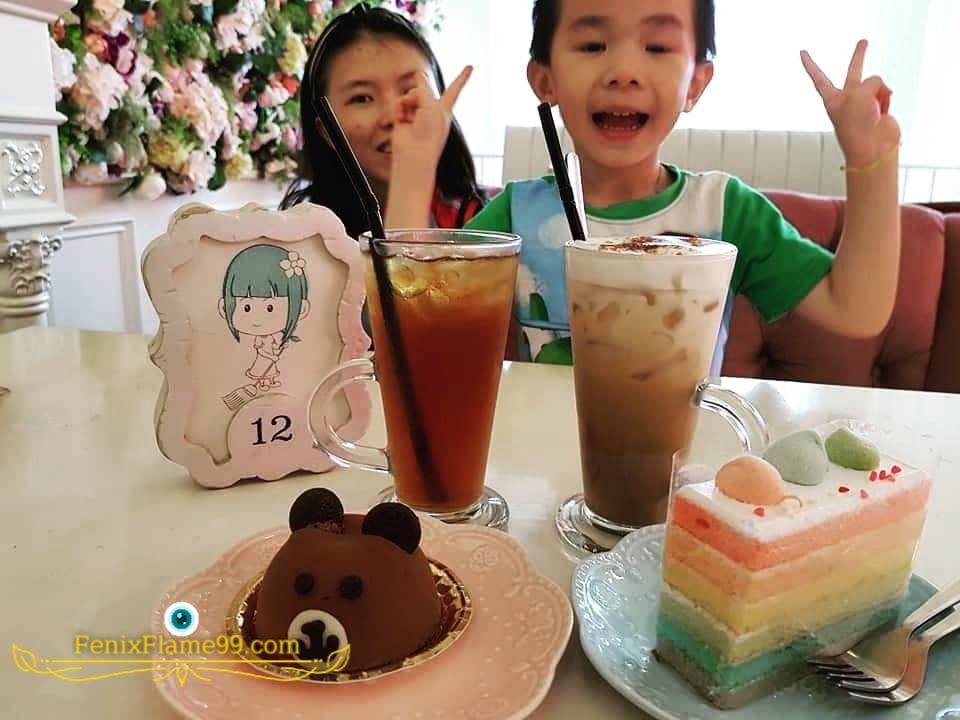 Have you try the 16oz, the cake in a plastic mug? It is so delicious and funky. They also serve breakfast, lunch and also coffee break. No headache if anyone in your family member have the urge of having rice, pasta or even meringue. Here everything is serve in one roof. After your main meal, you can have coffee or tea and even cakes or cookies. The cakes and cookies are alluring, you will be tempted to have some bites. When my nephew Adam was so happy when he sees the Rainbow and Brown Bear cakes. He said that the cakes are too beautiful to be eaten.
Highly recommendation : As you entered the shop, you will be greeted by a their dedicated staff. Always ready to serve. You will noticed the corner in the shop has assorted boxes of meringue, cookies, macaroons and cakes. All were beautifully packed and tied with ribbons, it is a perfect gift for any occasions or to surprise your loved one. So sweet! Here also you can order your cakes according to your special occasions. With all kinds of taste and designs, you will go crazy and not sure which to choose from.
For selfie lovers : It is a little bungalow painted in white and baby blue. There is a small enchanted garden. You will notice the bright red bougainvillea flower tree nicely bend like an arch. Do not miss out the blue bicycle parked at the side. You can make beautiful selfies here. As you entered the building, you will also mesmerize how beautiful the counter was well decorated.
Our experiences : We love the beautiful painting of a male reindeer with antlers decorated with 3D flowers. The atmosphere are cozy and feeling like Home Sweet Home. At the other corner, there are business lounge, perfect for business discussions. We love the giant mirrors hanging on the wall. Oh yes, forget not to pay a visit at their washrooms. The mirror hanged reminded me the Disney cartoon, "Snow White and the Seven Dwarfs". Invite your family and friends there, is the perfect time to have family bonding on weekend. Before you visit or dine in, check at their Facebook because at this moment their shop were close for renovations till further notice.
I miss sailormoon, my mother and my brothers in Malaysia. Before I flew back to Europe, we went for Milk Bubble Teas marathon in a day. We bought one cup from each shop : Instea, 茶丸家 (Char Yuan Jia) and many more. We shared the Milk Bubble teas among us. Can you imagine our tummy was so full with the tapioca balls? hahah. We are crazy family and this is what kept our family together. Catch me more on other exciting places on Food blog. Ciao
Index links for references :
https://en.wikipedia.org/wiki/Bubble_tea
https://en.wikipedia.org/wiki/Souffl%C3%A9
https://en.wikipedia.org/wiki/Meringue